McGuire, Kristen Shiner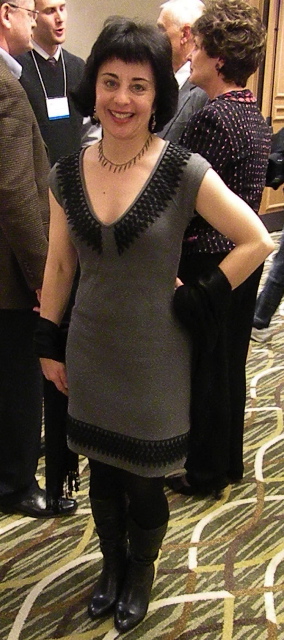 Kristen Shiner McGuire is Associate Professor in Performance Practice and the Coordinator of Percussion Studies at Nazareth College of Rochester, where she has taught since 1984. Her awards include the 2016 Monroe County School Music Association Richard Snook Award for outstanding contributions to music education and the 1998 Nazareth College Excellence in Undergraduate Teaching Award. The Nazareth College Percussion Ensemble has performed at state at National conventions and in schools across New York State. Kristen holds a Bachelor of Music degree with Highest Honors from the University of Illinois and a Masters degree in Percussion Performance and a Performer's Certificate from the Eastman School of Music. From 1980-81, she was a marimba student of marimba virtuoso, Keiko Abe, at the Toho School of Music in Tokyo, Japan. Her other teachers include John Beck, Thomas Siwe, Jim Petercsak, Keith Copeland and Jamey Haddad.
Kristen's performing talents run the gamut from jazz singer and drummer, jazz vibraphonist, solo marimbist, orchestral percussionist and timpanist, to contemporary chamber musician. She has performed with Clark Terry, Johnnie Mathis, Mickey Rooney, the Pan Gaia Steel Band, the New Japan Philharmonic, and the Rochester Philharmonic Orchestras, among many others. Her recordings include those with the Maelstrom Percussion Ensemble , Rochester Philharmonic Orchestra, Dave McGrath, Linda Foster, Jon Seiger and The All Stars, the Rochester Gay Men's Chorus, John Teleska, the Pop Tarts, and on her own album, Kristen Sings and Plays and Rings. Kristen has performed at the Ocho Rios Jazz Festival in Jamaica, the New Orleans Jazz Festival, the Suncoast Jazz Festival, the Xerox Rochester International Jazz Festival, the Percussive Arts Society International Convention, and several venues in St. Thomas.
A published author and composer, Kristen is widely known in the percussion field for her distinct and accessible writing style. Her compositions include Declaration, Song, and Dance for solo timpani (Ludwig Music), Colors of Earth and Sea and Three Pieces for Bass Clarinet and Marimba (Media Press), Celestial Welcome (Alfred Publishing) and 'Dis Is How Her Songo (ReallyGoodMusic), a commissioned drumset quartet written for and premiered by the Women's Percussion Project 2002. Her articles are published in School Music News, The Instrumentalist, and Percussive Notes. Her first book, Mallet Percussion Workout, is distributed by Alfred Music Publishing. Her most recent publication (2016) is Baroque for Marimba, written with her husband.
Kristen has been actively involved in the international Percussive Arts Society for over 20 years. She has served on the Education Committee, the Board of Directors, and as the New York State Chapter President from 1990-1999. Since that time, she has coordinated Days of Percussion, edited the State Newsletter, and has given numerous clinics at State and National conventions. In 1993, she received the Outstanding Chapter President Award out of 65 chapters world wide. She served as the Secretary for the Executive Council from 1999-2002; the first woman in twenty years to be chosen for this governing position.
As a clinician for Sabian Cymbals, Mike Balter Mallets,and Regal Tip Calato Sticks, Kristen is a well known percussion educator and performer throughout the United States. She is based in Rochester, New York, where she lives with her husband David, a composer, pianist, music theorist, and aesthetic education proponent, along with their two cats, Tenny and Marco. Kristen currently performs as a freelance artist, as the mallet percussionist with The Rita Collective, and with the RPO Marimba Band and Rochester Philharmonic Orchestra.
For more information, visit www.kristenshinermcguire.com and www.facebook.com/kristenshinermcguire.